Special Golf Plan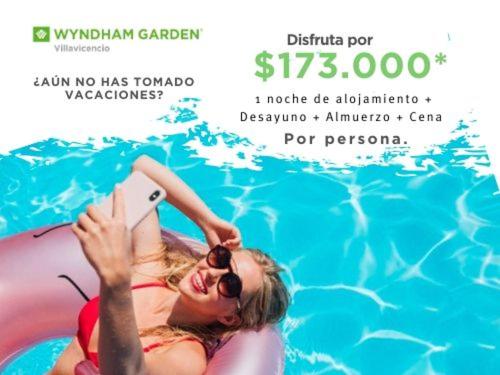 From COP $ 230,000 + taxes
For 2 players
The plan includes:
Accommodation Night
Buffet breakfast
Access to swimming pools, sauna, Turkish bath, gym, tennis courts
Rate per room per night
Green Fee for only $ 30,000

Promotion Does not apply in high seasons.

It does not include hotel insurance, this is paid at the time of Check - in.
Easter
Weeks of holiday bridges
New Year and Christmas
Conditions and Restrictions
Does not include VAT of 19% on the accommodation rate
Does not include hotel insurance per person per night of COP $ 6,000
Check in 3:00 pm check out 1:00 pm
Reservations minimum 48 hours in advance. Subject to availability
All reservations must be guaranteed
Does not include unspecified consumptions
Collection of No Show according to established policies
Not combinable with other promotions

Thanks for choosing us
Wyndham Garden Villavicencio Hotel
Reservations@hotelwyndhamgolf.com
V / cio (57) (8) 672 73 33 | Cell phone (57) 313 575 08 99
Bogotá (57) (1) 489 30 00 Op. 7 Ext. 3267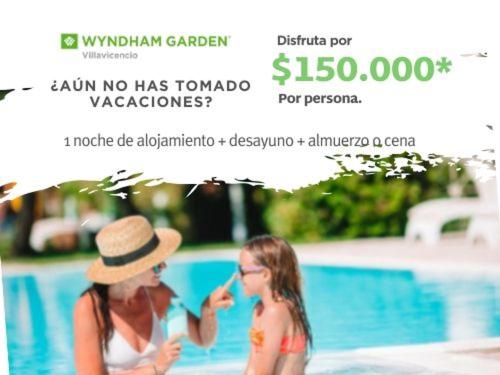 Por persona
Desde COP $150.000 incluye impuestos
El plan Incluye:
Noche de Alojamiento
Desayuno tipo buffet
Almuerzo o cena
Acceso a piscinas, sauna, baño turco, gimnasio, canchas de tenis
Tarifa por habitación por persona por noche .
No incluye seguro hotelero, este se paga al momento de hacer Check - in
Condiciones y Restricciones
No incluye IVA de 19% sobre la tarifa de alojamiento
No incluye seguro hotelero por persona por noche de COP$ 6.000
Check in 3:00 p.m. check out 1:00 p.m
Gracias por preferirnos
Hotel Wyndham Garden Villavicencio
Reservas@hotelwyndhamgolf.com
V/cio (57)(8) 672 73 33|Celular (57) 313 575 08 99
Bogotá (57) (1) 489 30 00 Opc. 7 Ext. 3267